cromney
Making great teaching materials is not only about the content but also how it is presented. Research has shown that visual design influences both student comprehension and motivation. This workshop offered some visual design best practices to improve student learning, and demonstrated how they can be applied to materials using word processing software.
References can be downloaded HERE
The handout can be downloaded HERE
Thanks everyone for coming. Some people were having trouble downloading the poster from the conference app, so I've posted it here too.
I just got the official word: I will be a featured speaker at the Japan Association for Language Teaching's  41st Annual International Conference on Language Teaching and Learning & Educational Materials Exhibition in Shizuoka. I will be giving a workshop called Harnessing the power of visual design and a lecture titled Towards systematic materials design with ADDIE. I'm really excited, especially that the conference will be at Granship in Shizuoka. The first JALT conference that I attended was held there in 2003. It's a real milestone for my career. Twelve years ago I attended JALT as a participant, this year I will be a featured speaker. What a difference 12 years makes! I'm also really excited about the conference theme of "focus on the learner" as that is a big part of who I am as a teacher.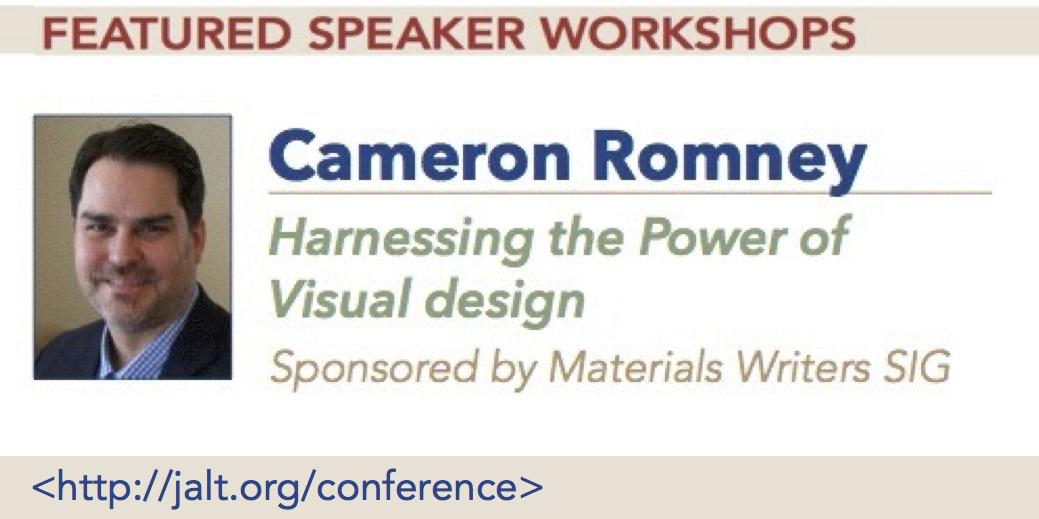 Thanks everyone for coming out! I enjoyed talking with everyone. Keep making supplements!